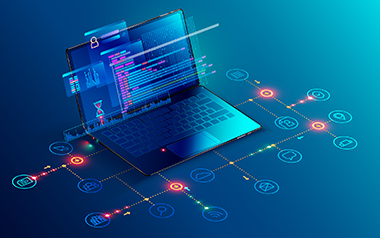 What would we do without Google? No… REALLY. Google has become an ever-present tool right in the palm of our hands. Just to name a few, we can get directions, listen to music and play  games, find a dog groomer, send messages and adjust the temperature in your home. Well, if you're in the business of promoting businesses like we are, Google pretty much dictates your every move. We are constantly having to watch what update they're going to make next, what changes they want to see for business profiles and websites, and how we can help our clients adapt to be sure they meet any new requirements.
Get ready… because this is a big one.
What is a Google Broad Core Algorithm Update?
Google has recently unveiled the second broad core update for 2023, cleverly named the August 2023 Broad Core Update. At its heart, a Google broad core algorithm update is a significant modification to Google's primary search algorithm. You might be saying "wait… what the heck is an algorithm?"
Basically, Google's job is to deliver the best answer for whatever it is the user is asking. You don't want to search for "pizza places near me" and have McDonald's pop up. This will frustrate the user and cause them to find another method of search (Facebook, TikTok, Bing, etc.) leaving Google's advertisers in the dust. So, the algorithm is a set of instructions (very complex ones!) that retrieve information from websites that Google has cataloged and then present that information to the user.
Why Does Google Introduce Updates?
As user behavior evolves, and the internet grows, Google occasionally needs to recalibrate its algorithms to provide us with the experience we're looking for. Therefore, the search giant frequently (and we mean FREQUENTLY – we're talking thousands of times per year) updates their algorithm. Most of these changes are minor fixes targeting particular issues (like mobile usability or security). However, broad core updates aim to improve the overall quality and relevance of search results for users and can create noticeable changes to your website's performance. Broad core updates typically happen every 2-3 months on average. While some of the updates are announced officially to give us marketers a heads up about what's going on, others might be introduced more discreetly (which, as you can imagine, is super annoying).
The Impact of Google Broad Core Algorithm Updates
Ranking Fluctuations: Websites might notice shifts in their rankings post-update. While some may see improved rankings, others could experience a drop.
Content Evaluation: A significant part of these updates often focuses on content quality. Sites delivering relevant, authoritative, and well-structured content can gain a better search foothold.
User Experience: Modern updates consider the overall user experience, including factors like page load speed, mobile responsiveness, and site security.
So What Do I Do Now?
If you've noticed a drop in your search ranking after an update, don't panic. It's not always because of something you did or didn't do. Google is just getting better at understanding what users want.
To stay on top, we recommend you consistently follow SEO best practices (not just in response to an update), focus on great content (like this blog for example!), and make sure your site gives users a great experience on all devices (we know someone who can help 😉).
Google is a very powerful tool that continues to evolve. Keeping up can be an overwhelming and intimidating process but with a partner like Stellar Edge, you are supported every step of the way in optimizing and standing tall among the search engine crowd. Get ahead of the competition by contacting us today and let's chat about how to make sure you successfully maintain a strong online presence.
LET'S GET STELLAR TOGETHER!
Sign up for our newsletter and receive periodic tips and tricks to help your business navigate the latest marketing trends. We promise we won't spam you with stupid stuff or share your information with anyone!